Osteoarthritis (Calcification)
Overview
Osteoarthritis is the most common form of arthritis, affecting millions of people worldwide. It occurs when the protective cartilage that cushions the ends of your bones wears away over time. Growths in the bone and protrusions at the edge of the joint disrupt the normal structure of the joints, causing limitation in movements and pain.
Although osteoarthritis can damage any joint, the disorder most commonly affects the joints in your hands, knees, hips, and spine.
Osteoarthritis complaints can usually be managed, but the damage to the joints cannot be reversed. Staying active, maintaining a healthy weight, and certain treatments can slow disease progression and help improve pain and joint function.
What are the symptoms?
Osteoarthritis symptoms usually develop slowly and worsen over time. Osteoarthritis signs and symptoms include: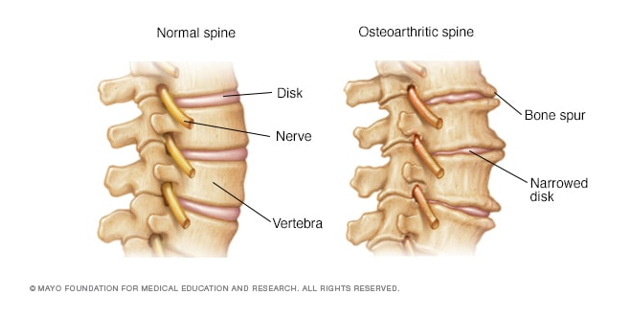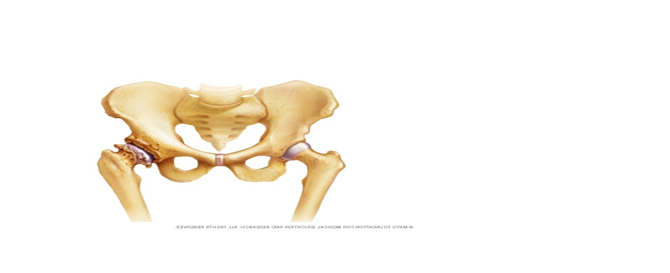 Affected joints can hurt during or after movement.
Hardness. Joint stiffness is most noticeable upon waking up in the morning or when inactive.
Sensibility. Your joint may feel tender when you apply light pressure to or near a joint.
Loss of flexibility. You may not be able to move your joint through its full range of motion.
The grating feeling. When you use the joint, you may feel a rubbing sound, such as a grating sensation, and you may hear popping or cracking.
Bone spurs. These extra pieces of bone that feel like hard lumps can form around the affected joint.
Swelling. This can be caused by inflammation of the soft tissue around the joint.
When should you see a doctor?
Make an appointment with your doctor if you have joint pain or stiffness that doesn't go away.
Why does it happen?
Osteoarthritis occurs when the cartilage that softens the ends of the bones in your joints gradually breaks down. Cartilage is a tight, slippery tissue that provides virtually frictionless joint movement. Eventually, if the cartilage wears away completely, bone will rub against bone.
Osteoarthritis is often referred to as a "wear and tear" disease. But besides the cartilage structure, osteoarthritis affects the entire joint. It causes changes in the bone and deterioration of the connective tissues that hold the joint together and connect the muscle to the bone. It also causes inflammation of the joint lining.
Risk factors
Factors that can increase your risk of osteoarthritis include:
Age: The risk of osteoarthritis increases with age.
Gender: Women are more likely to develop osteoarthritis, but the cause is not clear.
Obesity. Carrying extra body weight contributes to osteoarthritis in several ways, and the more you weigh, the greater your risk. The increased weight puts stress on weight-bearing joints like your hips and knees. Also, fatty tissue produces proteins that can cause harmful inflammation in and around your joints.
Joint injuries. Injuries while playing sports or from an accident can increase the risk of osteoarthritis. Even injuries that occurred years ago that seem to have healed can increase your risk of osteoarthritis.
Repetitive stress on the joint. If your job or a sport you play places repetitive stress on a joint, that joint may eventually develop osteoarthritis.
Genetic. Some people inherit a tendency to develop osteoarthritis.
Bone deformities. Some people are born with malformed joints or defective cartilage.
Some metabolic diseases. These include diabetes and a condition in which your body has too much iron (hemochromatosis).
Complication
Osteoarthritis is a degenerative disease that worsens over time and often results in chronic pain. Joint pain and stiffness can become severe enough to make daily work difficult.
Depression and sleep disturbances can result from osteoarthritis pain and disability.
Diagnosis
During the physical exam, your doctor will check your affected joint for tenderness, swelling, redness, and flexibility.
Imaging tests
To take pictures of the affected joint, your doctor may recommend:
X-rays: The cartilage is not visible on X-ray images, but cartilage loss is revealed by the narrowing of the space between the bones in your joint. An X-ray may also show bone spurs around the joint.
Magnetic resonance imaging (MRI): MRI uses radio waves and a strong magnetic field to produce detailed images of bone and soft tissues, including cartilage. MRI is not commonly needed to diagnose osteoarthritis, but can help provide more information in complex cases.
Lab tests: :Analyzing your blood or joint fluid can help confirm the diagnosis.
Blood Tests:Although there is no blood test for osteoarthritis, some tests can rule out other causes of joint pain, such as rheumatoid arthritis.
Joint Fluid Analysis: Your doctor may use a needle to draw fluid from an affected joint. The fluid is then tested for inflammation and to determine if your pain is caused by an infection rather than gout or osteoarthritis.
Medicine: Medications that can help relieve symptoms of osteoarthritis, primarily pain, include:
Paracetamol: Paracetamol (parol and others) has been shown to help some people with osteoarthritis who have mild to moderate pain. Taking more than the recommended dose of paracetamol can cause liver damage.
Nonsteroidal anti-inflammatory drugs (NSAIDs): NSAIDs (such as ibuprofen and naproxen sodium at recommended doses) typically relieve osteoarthritis pain.
NSAIDs can cause stomach upset, cardiovascular problems, bleeding problems, and liver and kidney damage. As gels applied to the skin over the affected joint, NSAIDs have fewer side effects and can relieve pain as well.
Duloxetine. Normally used as an antidepressant, this medication is also approved to treat chronic pain, including osteoarthritis pain.
Therapy
Physical Therapy: Once your physical therapy program has been planned by your physician, you should be shown exercises alongside electrotherapy to strengthen the muscles around your joint, increase your flexibility, and reduce pain. Regular gentle exercise on your own, such as swimming or walking, also helps maintain well-being.
Occupational Therapy: Ergonomics training should also be included during your physical therapy sessions, it can help you discover ways to do everyday tasks without putting extra stress on your already sore joint. For example, a large-grip toothbrush can make it easier to brush your teeth if you have osteoarthritis. A bench in your shower can help ease the pain of standing if you have knee osteoarthritis.
Therapeutic Injections
Cortisone Injections
Cortisone injections work by treating inflammation that can cause knee pain, swelling, and warmth. The effects of a cortisone injection can last from 3 weeks to 3 months, and sometimes longer. People who want quick, temporary relief from knee arthritis pain may choose to have a cortisone injection. Temporary pain relief may allow a person to undergo physical therapy; attending an important life event, such as a long-planned vacation; or to postpone knee replacement surgery to a later, more convenient time.
Hyaluronic Acid Injections
Hyaluronic acid injection provides lubricating fluid to the knee joint. The goal is to temporarily lubricate the knee joint, thereby reducing knee pain and inflammation, improving knee function, and perhaps even slowing the degeneration process.
Platelet Rich Plasma Injections (PRP Injections)
Platelet-rich plasma therapy attempts to take advantage of the blood's natural healing properties to repair damaged tissue. It is obtained from a sample of the patient's own blood and contains a higher concentration of platelets than is found in normal blood.
There is growing evidence to suggest that PRP injections may work for the treatment of knee osteoarthritis in some people. PRP injections are considered standard practice.
Stem Cell Injections
Researchers theorize that stem cells can transform into cartilage cells when injected into an osteoarthritic knee; suppress inflammation; slows down cartilage degeneration; and/or reduce knee pain. The stem cells used in these injections are usually collected from the patient's fat tissue, blood or bone marrow.
Intra-articular Ozone Injection
Intra-articular applications can be preferred in hip, shoulder, ankle and other peripheral joints, most commonly in the knee joint. It can be used in inflammatory/degenerative diseases and after sports injuries. Although there is no consensus on ozone/oxygen concentrations and doses, weekly injections of 5-20 mL in the knee and shoulder joints and 1-2 mL in smaller joints at a concentration of 10-20 μg/mL have been recommended in accordance with the studies. Pathologies around the joint such as bursitis and tendinitis are also seen. If these pathologies are not treated, complete success cannot be achieved. Therefore, the patient should be evaluated from these aspects and taken to an appropriate exercise/protection program.